People Magazine – Fake Attorney-Physician Arrested in Wife's Murder in Utah
The words, spoken as her mother was recovering at home from a facelift surgery, still haunt Alexis Somers.
"In case anything happens to me," Michele MacNeill, 50, told her daughter, "make sure it wasn't your dad."
Days later, Michele, a homemaker, was found lifeless by another daughter, Ada, then 6, in a bathtub in their upscale Pleasant Grove, Utah, home.
When the medical examiner concluded that her April 2007 death was due to natural causes, local police never opened a criminal investigation. Horrified, older daughters Alexis, 29, and Rachel, 32, frantically insisted to anyone who would listen that their mother's suspicions rang true and that their father, a prominent doctor-lawyer, should be investigated.
Now, after five years and much pressing by family members, Martin MacNeill, 56, was finally arrested and charged with first-degree murder on Aug. 24. After collecting new forensic expert opinions and a mountain of circumstantial evidence, authorities now allege he drugged then drowned his wife to continue an affair he was having.
"It turns out he was a father we never knew," Alexis tells PEOPLE. "We grew up loving our dad. But his entire life has been a lie." Adds Rachel: "Our lives have become a horror film."
An Alleged Trail of Deceit
The MacNeill sisters say their parents once had the ultimate love story: A handsome man with a promising career originally from New Jersey swept a young professional model from California off her feet.
Over the years, their mother's compassion knew no bounds as the devout Mormon family adopted three girls from Ukraine.
But in the year before her death in 2007, Michele began to suspect her husband was having an affair, according to the older sisters.
He'd become increasingly volatile, became obsessed with his looks, and eventually pressured his wife into having a facelift, they say.
When she finally agreed to undergo the surgery, her husband overmedicated her during the recovery, rendering her helpless at home – but she was still able to speak, giving the warning to her daughter, according to investigators.
Following Michele's death, with the help of their mother's younger sister Linda Cluff, the sisters began unraveling what they call their father's web of lies. These allegedly involved multiple affairs, his own falsified school transcripts, and even allegations that he may have killed other people, according to prosecutors.
In an arrest affidavit, a former girlfriend of MacNeill's says he previously confessed to killing his brother years ago, tried to kill his mother, and performed mercy killings at the medical center where he worked.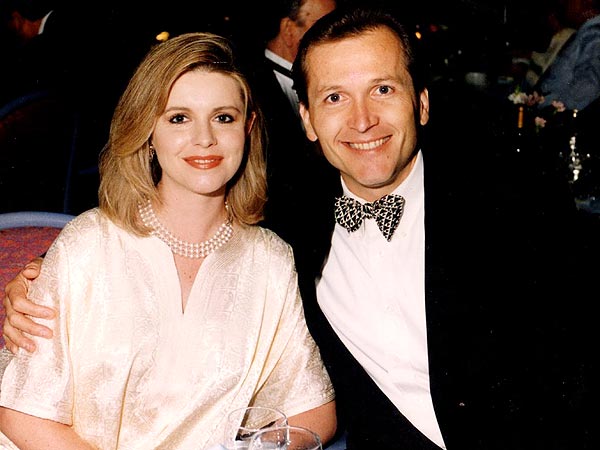 Michele and Martin MacNeill
Courtesy Rachel MacNeill
Weeks before her mom's facelift, Alexis, after searching her father's cell phone records, identified a woman, Gypsy Willis, 35, whom he was calling at all hours. Just a week after their mother's funeral, the sisters were shocked when their dad introduced Willis, a nursing student, as the family's new live-in nanny to care for their younger sisters.
"The realization that our father was trying to replace our mother was pure horror," Rachel explains. "The only way we could function was out of concern for our little sisters and who would take care of them."
Detectives say MacNeill had been carrying on an affair with Willis for two years. Charging papers also say Willis's former roommate said Willis discussed possible ways to have Michele killed. In addition, Willis was in constant contact with MacNeill before, on the day of, and after Michele's death. Willis, however, has not been formally charged in connection to the murder. (She could not be reached for comment.)
After Michele's death, Willis took on the identity of one of MacNeill's daughters for financial gain. In 2009, both MacNeill and Willis were convicted of identity theft and served time in prison while Michele's murder investigation was ongoing.
A Web of Lies?
Separately, the sisters' aunt, while frantically lobbying police to reopen the case, provided evidence that MacNeill falsified his own school records and had been convicted of check fraud back in the 1970s before his marriage to Michele.
"MacNeill's entire academic career, which included a law degree, was based on lies," says Jeff Robinson, a Utah County Attorney investigator. "This person was never qualified to be a doctor or lawyer in the first place. The fact that he was practicing medicine this whole time is disturbing."
Although MacNeill is currently back behind bars, the sisters still live in fear knowing that a murder conviction isn't guaranteed and believe their father is hell-bent on revenge.
"We won't rest until he's put away for good," says Alexis. "We can't stop looking behind our backs until he's been convicted for what he did to our mother."
MacNeill's attorney, Randy Spencer, says his client denies any wrongdoing and will fight the charges. He's due back in court on Sept. 4.
"There's no question Martin MacNeill is a sociopath, a man who does things purely for his own benefit regardless of who he harms," says Robinson. "This is a man who doesn't have a conscience."